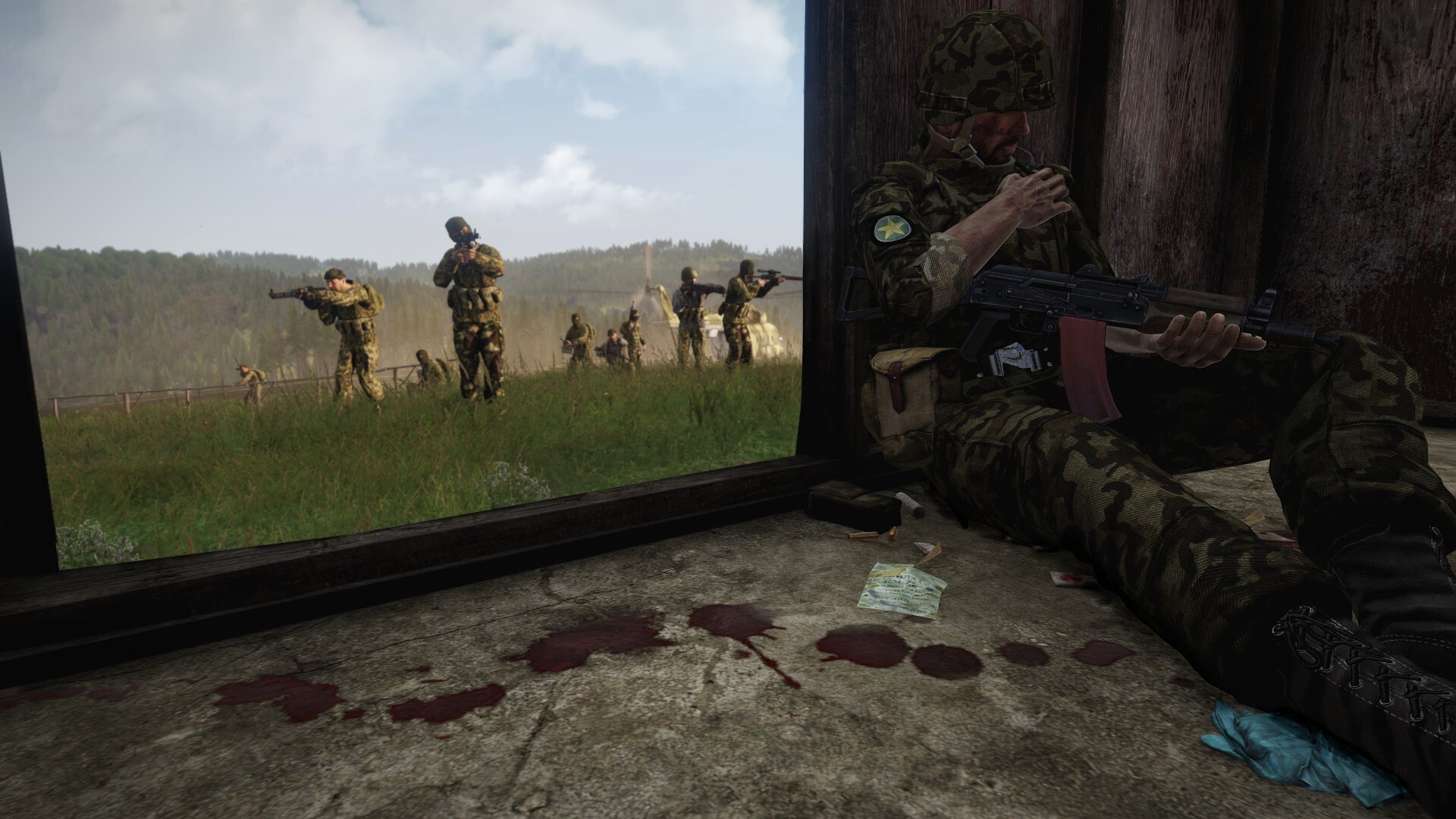 With the recent growth of Theseus comes a new need for Team Leaders! Do you enjoy leading people into glory and form a cohesive fighting force?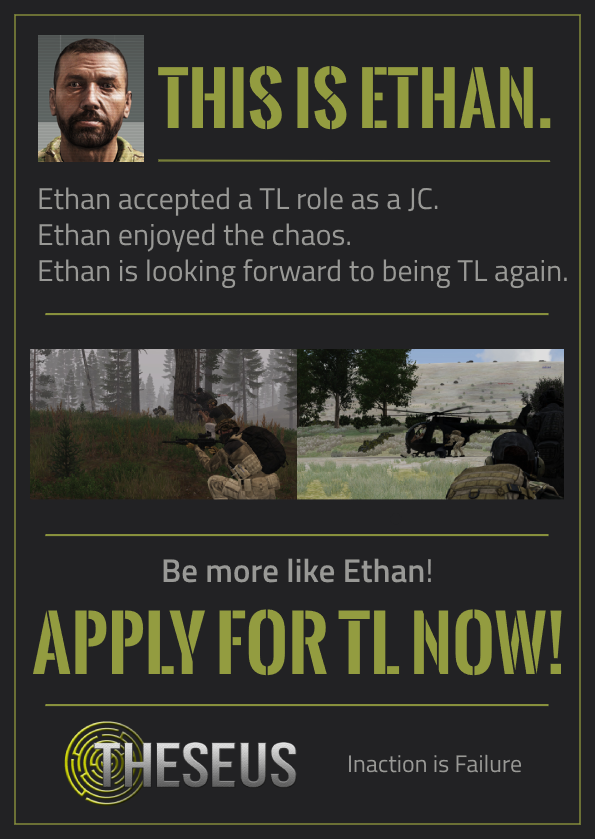 WOULD YOU LIKE TO KNOW MORE?
Recent Campaigns
Jungle in Fire Campaign
Deployment onto Tanoa to relieve the Civil distress caused by a recent election and put an end to the revolutionary forces threatening to overthrow the current leadership. Thanks to Jack for the campaign.
Huumeet Campaign
Deployment onto Ruha to relieve the drug epidemic caused by an unknown cartel based group wreaking havoc across the area. Thanks to Red for the campaign.
Training Infrastructure Status
Some time ago our Training infrastructure was seen as outdated and not compliant with our core documentation. After a lot of work put in by all the Senior staff and everyone who helped, we have put out a new Code of Conduct which sums up the new structure and progression path in Theseus - split up into Administrative, Advanced and Specialisations.
Licenses and Certificates were replaced and overhauled by Trainings, including a profile page update and an easier way to manage received training for the Instructors. Instructors will also never see their Training being expired.
Rework included the idea of all new documents being shorter and more to the point, with a possibility of an expanded version or any other kind of helping documentation being classified as an Extra.
In addition to the new CoC, we have so far released new Engineer, Grenadier, Marksman and Machine Gunner documents for Specialised Trainings, as well as an expanded Machine Gunner Manual. Another Extra material, the Player Handbook has also been released, containing a large amount of technically-oriented information for both new and experienced players alike, verified by modding experts.
Olympus 3 has been released, the new update brings us back to Stratis with new features such as vehicle spawning for the Base, Airfield and Engineer course. With entirely new ranges and courses for all specialised roles. The new Olympus has been designed based around performance and versatility. Developed among instructors to ensure each area satisfies the training needs the specialisation requires. And so Instructors can have trash free areas and working bathrooms!
The specialisation training fees have also been removed with specialisations now being offered for free.
What the Future Holds
Since April we have received a large influx of new members, we would like to welcome every one of them again! That also brought the need for some server and modpack optimizations that were since performed for stable and continuous experience.
However, the unit also grew steadily and we have reached up to 28 contractors on a Saturday Contract. That presents a challenge in terms of more required leadership (Team Leads and Actuals) as well as a strain on organizational and maintenance capabilities. Theseus has always worked towards excellent small-unit tactics and we would like to upkeep the original goals and not shift into a large platoon.
With that in mind, we have actively decided to continue pursuing that goal and stay a smaller unit. A soft capacity limit of 30 active members will be implemented and the application process will become stricter. Recruitment posts will be halted for the time being and will reopen on a per-need basis (if we drop in active members).
Team Structure
The Team Leading Specialised Training document is currently being worked on which will detail all the following changes, however to make the Team Lead and Actual process easier we are putting some things into effect right away. We are keeping our existing structure and terms for roles (Team Lead and 2nd in Command *) and making it more flexible to allow for larger compositions.
We have started using JTACs when a Helios element is present, with the first successful usage already completed. Implementation of Radio Operators is underway and currently in discussion.
New team structures are being implemented with team size limits moving up to 10, split into 2 sub-teams. Upon reaching 6 contractors in a team they can be split into separate groups run by a Team Leader and a 2iC, while 7 contractors enforce the split.
Overall command of an Ares team will remain with the Team Leader, directly controlling 4 members themselves while the 2iC will control the other 4 members under direction of the Team Lead. Both leaders are expected to listen to the command net while the 2iC is expected to stay away from it unless required.
Succession follows the rule: 2iC can take over from the Team Lead, who then selects a replacement 2iC following seniority or predetermined contractors.
With the above changes to teams once an Ares team has hit 8 members, an additional medic slot is available for the internal second team to relieve the stress on medics caring for larger teams.
Role Reversion
The way leadership works on Non-Contract operations will see more regular contractors becoming Team Leaders while the regular Team Leaders become riflemen. The idea behind this is that the regular contractors can experience what Team Leads go through and make a decision on if they enjoy it in a risk-free environment.
---
* "Team Leader" and "2iC" terms for roles are generally not used in such context, but we have decided to keep them to allow flexible transition from small structure to a bigger structure with relative ease - only the responsibility of the role changes.