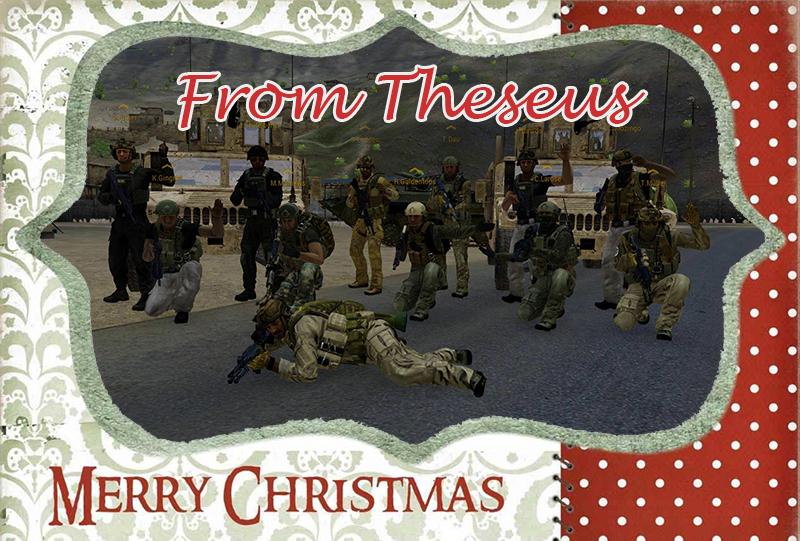 Greetings!
As the year 2017 comes to an end, traditionally Theseus takes it's well deserved holidays break.
We will not be conducting any official sessions for the upcoming two weeks.
However some unofficial paid sessions may happen! Keep an eye on the contracts ticker.
The new year looks very promising so far:
- We're starting to conduct sessions with more and more personnel. This allows for Theseus to further expand to its intended structure, allowing for new licenses and roles in the field.
- Our website may receive a serious update somewhere next year, allowing us to add some cool new features.
- Shortly after the holiday break we'll be most likely conducting an operation in Cambodia. Stay tuned!
I'd also like to use this opportunity to thank members for the following:
- Mission makers who put their constant effort into making weekly missions for everyone to enjoy and participate in.
- The mod-pack team for their careful selection of high quality mods to use.
- The members who actively step up to improve protocols, work on the website, write manuals, and help Theseus in general.
- All the members that show up every week to participate in contracts.
All members have contributed to the group we've become over the years; professional, unique, immersive, but foremost enjoyable and fun. Arma 3 is a game after all.
Theseus started small but has grown exponentially and our community is to thank for that.
Big thanks to all members for yet another great year of contractor themed milsim.
See you in two weeks!
Rory Guldentops
President
Theseus Inc.