Date:
Saturday, November 18, 2023 - 14:00
---
Situation
Theseus has been approached by a man who calls himself Mr. Pink who represents a party who would like to retain anonymity. Presently only BoD members are aware who it is we are working for.
Mr. Pink has informed us that 5 of his colleagues have recently been apprehended on Altis and shipped to the Almyra prison, a supermax security prison ran entirely by a private security force, currently we only have the targets alias' and no images.
Additionally we have been provided map information for the outside of the prison, but nothing from inside. All we know for certain is that the prison runs on a power grid housed inside and supplies are flown in monthly. With a fresh rotation of guards at the same time.
As far as we are aware nobody has ever come out alive from the prison and recent surveillance from Mr. Pink shows only our targets have entered in the past 2 weeks. We are unsure how many prisoners we may encounter.
With only one way in or out a frontal assault is a death trap. But we're doing it anyway. Be prepared for anything, explosives, long range, short range, vehicles, meteor strikes and chocolate rain.
---
FRIENDLY FORCES
ENEMY FORCES
---
Objectives
Theseus has been tasked with the following objectives.
PRIMARY OBJECTIVES
Assault Almyra Prison
Rescue Gerald Haas
Rescue Brock Beasley
Rescue Malcolm Burns
Rescue Cody Moran
Rescue Reid Jacobson
Download CCTV footage, wipe data when complete.
SECONDARY OBJECTIVES
Destroy the armory
Eliminate the majority of the private security force
---
Equipment
GROUND
AIR
SPECIAL
---
Intelligence
Enemy Capabilities: Near Peer
Enemy Vehicle Composition: Heavy Armoured Support Capabilities
EOD Required: EOD Bot
Est. Enemy Force: 1x Company Sized Element (100-150)
Est. Time Frame: 2 Hours

Locked Doors: Yes

Mr. Pink has given us an outside layout of the prison, the inside is unmapped.

Some kind of emergency measure has been implemented which will result in a prison-wide lockdown once we engage the mercenary forces holding it.
It's expected we can find details on how to disable the emergency measure from inside the office building.
As we don't have any images of the people we're looking for, the offices will have prisoner information we can utilise to find them.
AO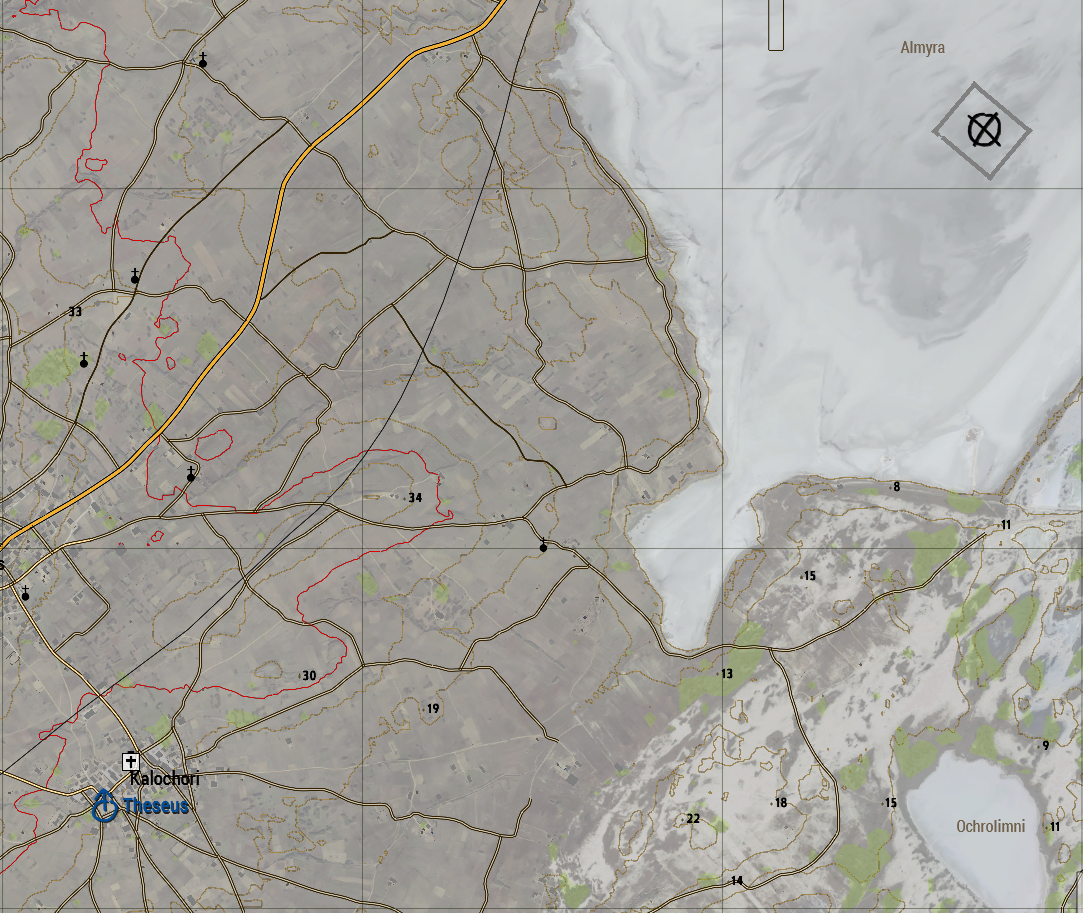 After action report:
Theseus Inc. received a job from Mr. Pink to rescue 5 prisoners from the dreaded Almyra prison. After decisive movement under fire, the prison was cleared and it's defensive measures weren't triggered.
Upon our return to the FOB, we were attacked by a mix of unarmed and armed hostiles. A quick firefight later, all prisoners were accounted for and only one KIA was suffered.