Helmand Valley (Sector Alpha)
Date:
Friday, February 15, 2019 - 20:30
Part of an internal Co-Op campaign organized by UST101, inviting us to participate.
Situation
Located in Helmand Valley Province.
JUNE 2007
It has been a few months since the British army fought one of the toughest clashes against the Taliban in the Helman Valley. Today the Sangin sector is controlled. But it is only a matter of time before the situation changes completely as we are receiving reports that several militia cells are mixing with the civilian population. Many of the villagers are helping the militia, giving them shelter or even taking up arms. The constant aerial reconnaissance has not brought much, nothing indicates that the militia is in the area. The villagers continue with their day-to-day life, ignoring the British army's indications.
AUGUST 2007
The sectors of the town of Sangin catalogued as high risk. Confrontation is imminent. Each time a patrol has entered the area, it has had direct contact with the militia.
EOD Team
Only explosives specialists will be able to deal with IEDS. They have their own vehicle with everything they need.
---
Objectives
Enter and secure Sierra Sector
Arrest and interrogate suspected civilians at the base.
Arrest all suspicious men and take them to the Helman Valley Advanced Base and question them. They may provide us with information.
Do not kill civilians indiscriminately DISARMED or pay the consequences and you will be punished instantly.
---
Equipment
Ground
2x LandRover Defender
2x Jackal (GMG)
1x Phanter CLV
1x Truck HX60 Troop Transport 4x4
EOD Vehicle
1x Panama ROV (EOD) operated via UAV Terminal (does not disarm mines, only detects)
Air
1x Apache
1x Wildcat (Hellfire)
1x Chinook

1x Merlin

Note: Possibility of transporting vehicles via sling load, Experienced pilots only.
---
Intelligence
The High Command orders you to search all downed Taliban for some form of identification. The bureaucrats want to name the fallen Taliban.
Possibility of some Antiaircraft Strela.
It is confirmed that some civilians give shelter and even take up arms if they are threatened. EXTREME CAUTION.
Our diesel supplies are at red level. There are hardly any cans of gasoline left and the vehicles are dry. That has not prevented the High Command from sending us to this operation.
Average likelihood of armed civilians
Confirmation of the presence of militia cells. HIGH possibility of IEDS.
AO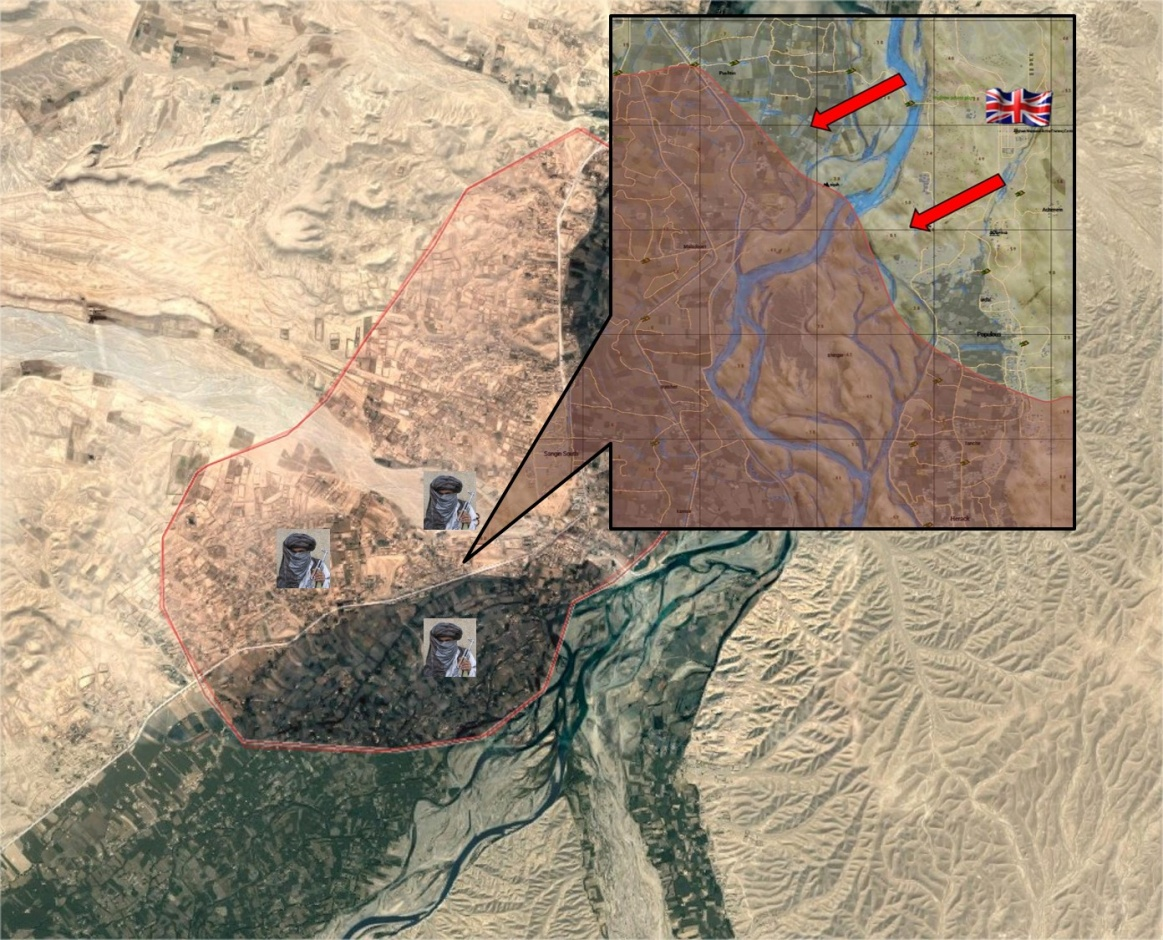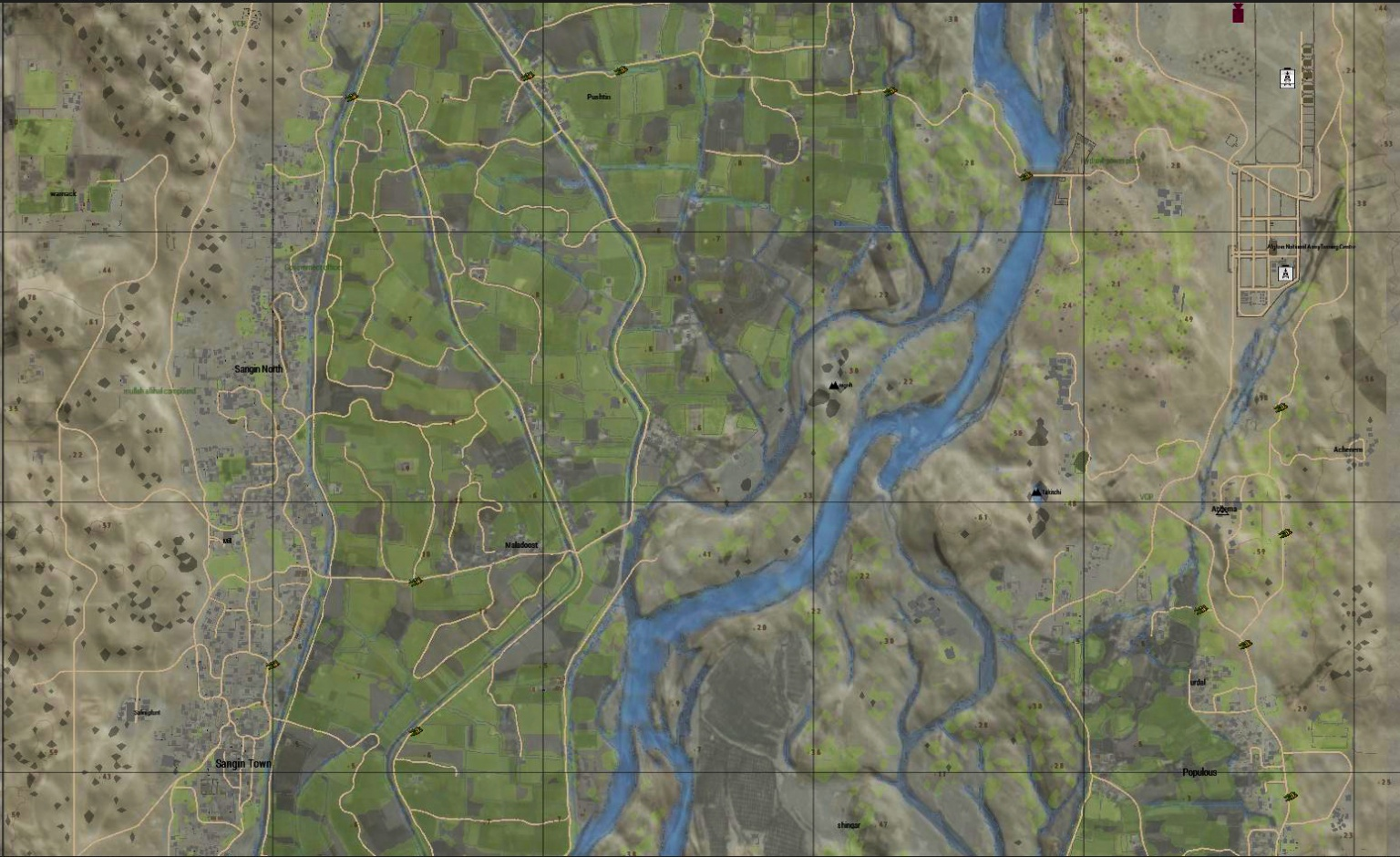 Sectors with Taliban Presence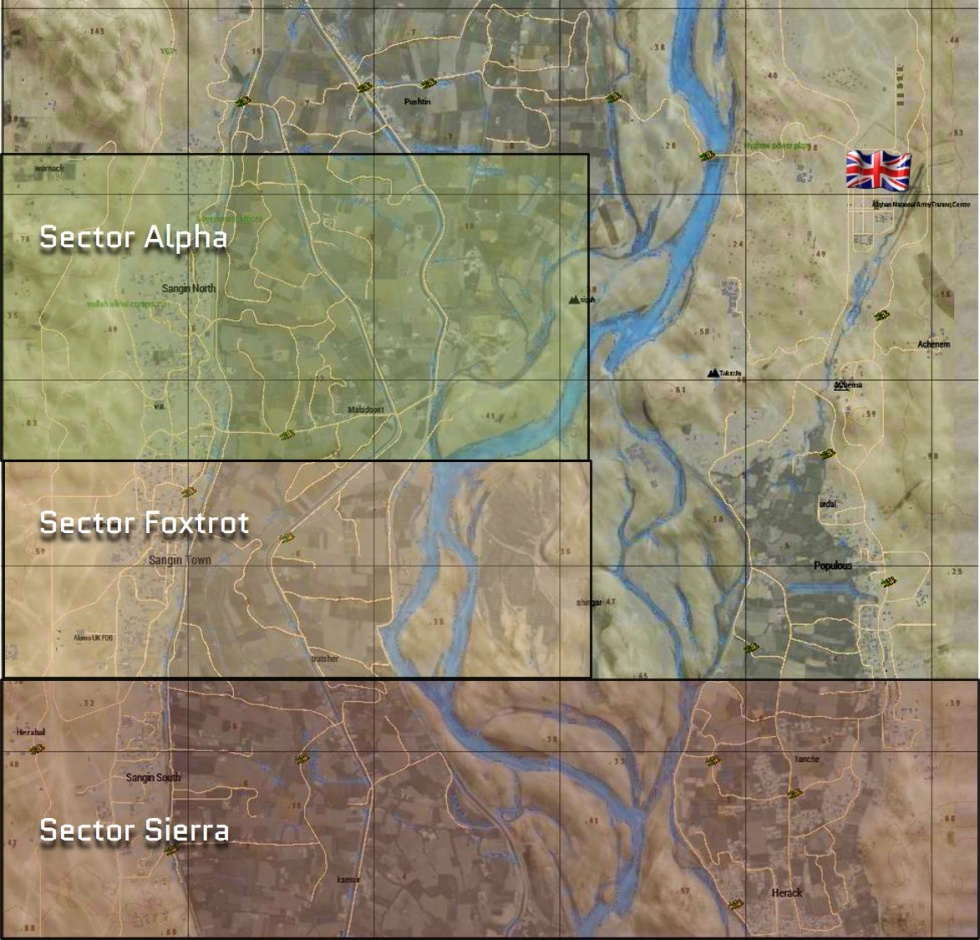 Advance Base
EOD Vehicle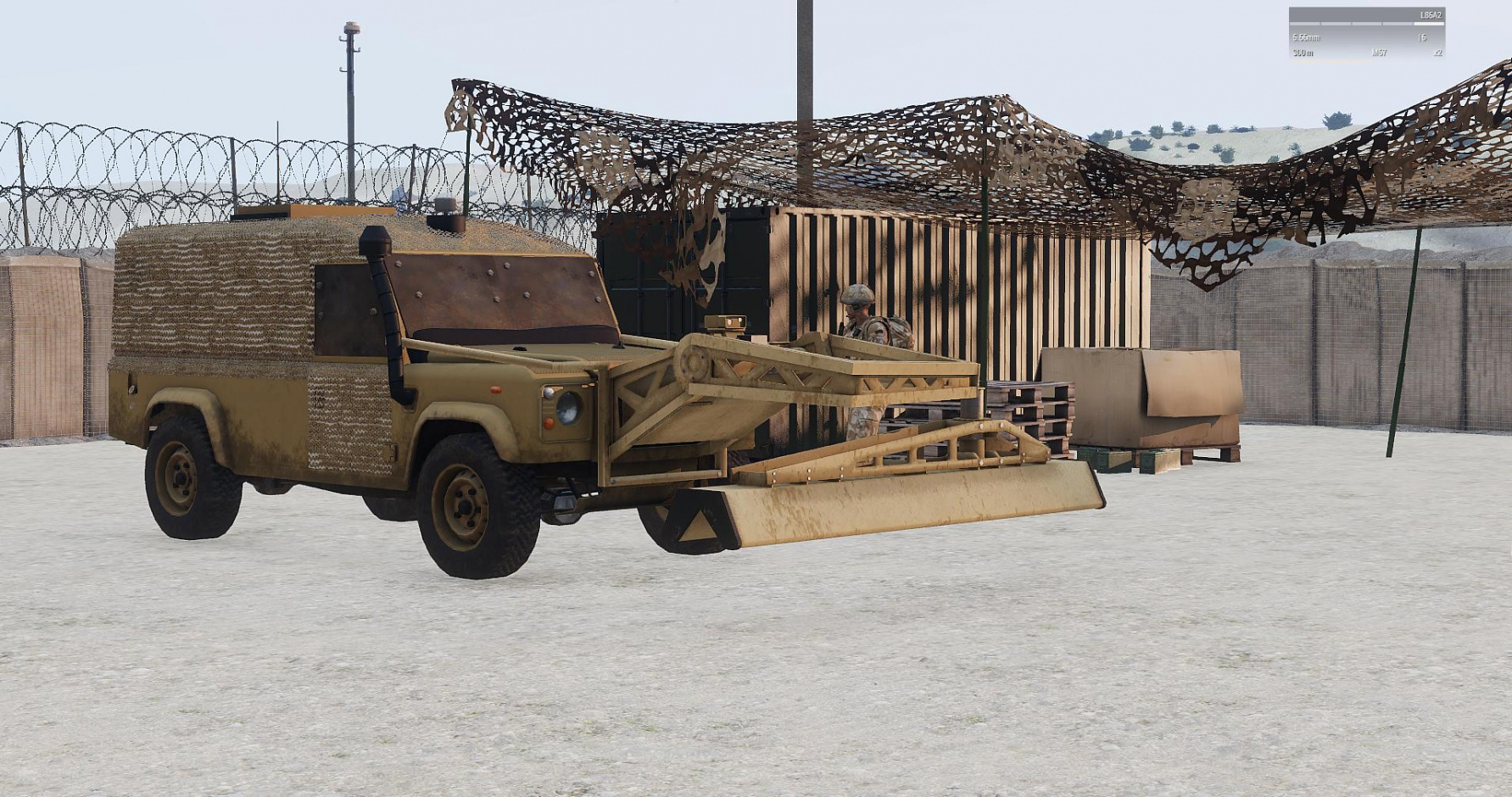 After action report:
Theseus joined UST101 in a joint operation taking control of Sangin North. Overcoming language barriers and learning how to work together played a large role in the operation.
Deploying ground and helicopter teams, combined forces moved out of the base in a convoy with an EOD vehicle. Units successfully completed their objectives despite high IED count and casualty rate.
Contractor casualties confidential - campaign still in progress.